Coventry Pallet Storage
Looking for Pallet Storage in Coventry?
Defenda Transport & Logistics can provide a wide range of warehouse storage & distribution options for pallets or other goods at our Coventry warehouses. Simple storage or load adjustment is available but can also be combined with distribution or product drop shipping services for added convenience. Pallet & loose load product storage & their delivery by various methods is saving our clients considerable sums & helping them streamline their pallet distribution throughout the UK and Internationally. Call us to discuss any aspect of our comprehensive delivery and distribution services.
Our secure CCTV protected good quality Coventry based pallet storage & warehousing facilities can help streamline your logistics needs — call us and talk to a member of friendly team to discuss your particular requirements.
Bulk pallet storage prices start at just £2.50 per week with handling on and off vehicles at £1.75 off and £1.75 on. Call us for more information.
See below for small quantity pallet storage prices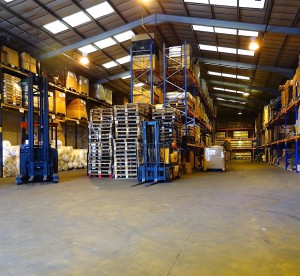 Small Quantity Pallet Storage Rates (excluding vat)
Single Pallet £7.95 per week
2 to 4 £6.95 per pallet per week
5 to 8 £5.75 per pallet per week
9 to 12 £5.25 per pallet per week
Further discounts available for larger quantities
(The above pricing guide is based on small quanitities of standard UK pallets of 1200mm x 1000mm footprints with a height of 1000mm). Non-palletised goods & pallets exceeding 1 metre in height can be quoted on an individual basis.
Drop shipping — National & International Pallet & Parcel Distribution
Order picking, packing and the ultimate shipping prices will be dependent on the type, size and weight of the items being shipped..
To discuss your requirements and secure a quote please call us on Coventry 024 76 466000 or email: info@defendacouriers.co.uk