Coventry self storage companies may well be the answer for customers seeking simply storage, but if you are looking for somebody to help with your storage and also the distribution of your products to customers both in the UK or to almost any other international destination then Defenda Transport & Logistics will almost certainly be a better choice.
Whilst Self Storage may offer the convenience of 24 hour access to your items – for those companies or individuals that are happy to work to our normal opening times and are really looking more for a partner that can help not only with storage but also with a host of other requirements such as 'Picking & Packing' and also the movement of your goods and products to customers throughout the UK then we will have an option to suit.
Whether you need things delivered on pallets, as parcels or loose loads in one of our many vehicles Defenda Couriers offer professional, reliable and extremely cost effective transport for numerous Coventry Companies from our Distribution Warehouse in the South West of the City.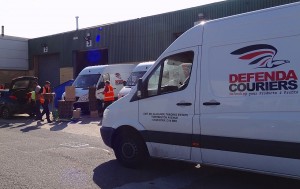 In addition to pallet and warehouse storage – expert advice and the supply of any packaging your items require is available from the co-located Defendapack, who can supply either off-the-shelf or bespoke and custom made boxes, postal tubes or many other protective packaging items.
Our popular student luggage service which allows students to move items up to 30kg in weight between their homes and their digs for as little as £6.95 + Vat (£8.34 inc Vat) is an extremely efficient way of handling the start and end of term problem that can often involve the need to recruit parents. This is further enhanced with a student storage service, again at our Coventry warehouse.
Call a member of our team on Coventry 024 76 466000 for details on warehouse storage and fulfilment in Coventry.
If you are simply looking for information about our light transport, haulage, same day or next day courier services please visit the relevant page of this site or call us Mon-Fri from 8.30am to 5.30pm