Sameday Courier
Coventry Same Day Courier Services & Pallet Distribution
Same Day Courier in Coventry — Fast Same Day Delivery of Parcels, Pallets & Loose Loads. Reliable and secure express delivery of your products with GPS tracked vehicles and instant electronic proof of delivery on our UK same day courier deliveries — CRB Checked drivers (now DBS checked). Call us now for a same day courier quote.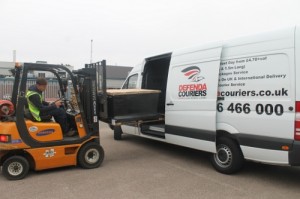 Defenda Transport & Logistics Ltd — Reliable Coventry Same Day Couriers & Road Haulage.
We are the perfect Coventry Same Day Courier for when you need to get an urgent package, laptop, pallet or large item from Coventry to another location in the UK on the same day. Defenda Couriers provide a Fast Response efficient Sameday Courier Service, with dedicated vehicles suited to your particular requirement. Small packages, documents, single or multiple pallets can all be carried in a dedicated vehicle — where pressing deadlines prevent the use of an overnight service. Be secure in the knowledge that our drivers are Criminal Records Bureau (CRB) checked.
Lowest Prices
We strongly believe in providing the lowest prices to our customers, helping them maintain a healthy margin and not being forced to watch their profits disappear in transportation costs. Building long term working relationships based on volume and reasonable prices has proved a successful formula for our same day courier service. It is a formula we intend to continue and expand as the company continues to develop.
To Obtain A Coventry Same Day Courier Quote Call Us Now
Our 024 76466000 number will forward to our out of hours number after 5.30pm — so whatever time of day or night it is — you can always secure an emergency same day collection or delivery. During normal office hours you can simply email: quotes@defendacouriers.co.uk.
Why choose Defenda Couriers?
Over 10 years of transport and logistics experience.
Professional and personal service tailored to your needs.
Guaranteed low prices without compromising service quality
Based in Coventry for fast response
Full range of services, Parcels, Pallets, Packages i.e. Documents, Same-day, Next-day delivery services, International deliveries, Freight Forwarding, Sea Containers.
Express Courier Service available Monday to Friday or Saturday & Sunday (a small premium applies for Saturday & Sunday deliveries)
Documents & Parcel Same Day Delivery
We can same day courier your documents and parcels from Coventry and surrounding areas to almost any UK & many mainland European destinations or overnight worldwide at massively discounted rates.
Due to the volume of domestic UK and International parcel traffic we handle, we can pass on fantastically low rates to customers. Unlike many parcel couriers, we offer very generous weight and size allowances. Standard UK parcels can weigh up to 30kg with no single dimension exceeding 1.5m. We can of course carry larger items but they will fall outside our standard tariff which can be found here.
Light Haulage, Heavy Goods Haulage & Groupage
In addition to a same day courier service for larger or more complicated transportation, you may also wish to discuss our full Coventry & Nationwide HGV & light haulage services, heavy goods services and your options for carriag — be it in dedicated vehicles or as part of our regular groupage services to most areas of the UK
For pallets etc please contact us for details about Same Day Delivery or our other light haulage & pallet options. For an overview of Sameday or Next Day pallet or dedicated vehicle delivery services click here

Below is a guide to just some UK cities & towns and the services available as standard parcel services. i.e. next day delivery, two day delivery (two working day 48hr service), same-day courier delivery and three day delivery. 
Aberdeen (Time Of Day Restricted – Same Day Or Next Day Not Always Available) Armagh (Time Of Day Restricted – Same Day Or Next Day Not Always Available) Bangor (Price & Availability On Application) Belfast (Same Day Not Available) Bath (Same Day Or Next Day Courier Price & Availability On Application) Birmingham (Same Day Or Next Day Courier Price & Availability On Application) Bradford (Same Day Or Next Day Courier Price & Availability On Application) Bristol (Same Day Or Next Day Courier Price & Availability On Application) Brighton (Same Day Or Next Day Courier Price & Availability On Application) Cambridge (Same Day Or Next Day Courier Price & Availability On Application) Canterbury (Same Day Or Next Day Courier Price & Availability On Application) Cardiff (Same Day Or Next Day Courier Price & Availability On Application) Carlisle (Same Day Or Next Day Courier Price & Availability On Application) Chester (Same Day Or Next Day Courier Price & Availability On Application) Chichester (Same Day Or Next Day Courier Price & Availability On Application) Coventry (Same Day Or Next Day Courier Price & Availability On Application) Derby (Same Day Or Next Day Courier Price & Availability On Application) Dundee (Same Day Or Next Day Courier Price & Availability On Application) Durham (Same Day Or Next Day Courier Price & Availability On Application) Edinburgh (Same Day Or Next Day Courier Price & Availability On Application) Ely (Same Day Or Next Day Courier Price & Availability On Application) Exeter (Same Day Or Next Day Courier Price & Availability On Application) Glasgow (Same Day Or Next Day Courier Price & Availability On Application) Hereford (Same Day Or Next Day Courier Price & Availability On Application) Hull (Same Day Or Next Day Courier Price & Availability On Application) Inverness (Same Day Or Next Day Courier Price & Availability On Application) Lancaster (Same Day Or Next Day Courier Price & Availability On Application) Leeds (Price & Availability On Application) Leicester (Price & Availability On Application) Lichfield (Price & Availability On Application) Lincoln (Price & Availability On Application) Lisburn (Same Or Next Day Not Available) Liverpool (Price & Availability On Application) London (Price & Availability On Application) Londonderry (Same Or Next Day Not Available) Manchester (Price & Availability On Application) Newcastle upon Tyne (Price & Availability On Application) Newport (Price & Availability On Application) Newry Ripon (Price & Availability On Application) Norwich (Price & Availability On Application) Nottingham (Price & Availability On Application) Oxford (Price & Availability On Application) Peterborough (Price & Availability On Application) Plymouth (Price & Availability On Application) Portsmouth (Price & Availability On Application) Preston (Price & Availability On Application) St Albans (Price & Availability On Application) St Davids (Price & Availability On Application) Salford (Price & Availability On Application) Salisbury (Price & Availability On Application) Sheffield (Price & Availability On Application) Southampton (Price & Availability On Application) Stirling (Price & Availability On Application) Stoke-on-Trent (Price & Availability On Application) Sunderland (Price & Availability On Application) Swansea (Price & Availability On Application) Truro (Early Orders Only, Price & Availability On Application) Winchester (Price & Availability On Application) Worcester (Price & Availability On Application) Wakefield (Price & Availability On Application) Wells (Price & Availability On Application) Westminster (Price & Availability On Application) Wolverhampton (Price & Availability On Application) York (Price & Availability On Application)