Sameday Courier in Coventry Takes on Additional Vehicles to Cope with Increased Demand
With new contracts being taken on at an incredible rate every week and ad hoc work at unprecedented levels: Defenda Couriers a Sameday Courier in Coventry have introduced a range of new vehicles to cope with the wide range of work it's being asked to undertake.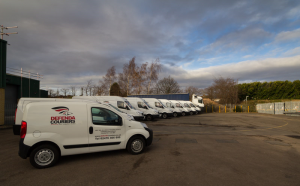 Whilst it's comparatively easy for us to take on vehicles for regular contract customers who are generally able to indicate the type of goods to be transported before a contract is agreed, ad hoc enquiries can result in the need for a far more diverse range of vans. We have therefore added another six vehicles ranging from Micro Vans for smaller deliveries through to Low Loaders capable of carrying 8 pallets (so long as weight limits allow) and flat beds for high loads or when goods need craning off at the delivery point. With one of the largest fleets amongst independent couriers and offering electronic proof of delivery along with fully tracked vehicles, we should perhaps be your first choice for the professional & reliable delivery of your goods across the UK.