UK Wide Express Courier Services – Defenda Couriers Coventry
NEED A FAST, FLEXIBLE, EXPRESS COURIER SERVICE?
In addition to operating a large fleet of vehicles for contract customers, Defenda Couriers in Coventry maintain a team of drivers, riders & vehicles to provide a fast response service to ad hoc customers & contract customers needing additional support with their transport needs.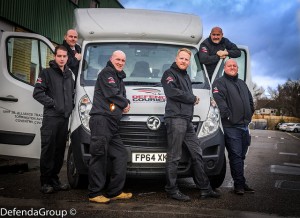 With a range of vans from Micro Vehicles such as Bippers & Nemos up to large Low Loaders, Tail Lift Lutons & Curtain Sided Vans and even bikes, we can transport most of a client's Same-day needs – responding almost immediately to an urgent request for vans & drivers or our Coventry motorcycle couriers / dispatch riders.
Coventry Motorcycle Courier Services
Delivery by Motorbike Courier is also an option for clients needing to send smaller packages urgently. We only operate a very limited number of bikes, so if you require one of our Coventry based Motorcycle Couriers let us know as soon as possible to avoid disappointment. In any event, our motorcycle dispatch riders operate within national speed limits and urgent deliveries should be booked only if distance & time allow delivery to be completed without the need to dangerously exceed speed limits. As with all Motorbike Couriers during winter months, ice & snow anywhere on-route will determine if this service is available or if a Micro Van should be offered as an alternative.
Call us for more information about our Nationwide Express Courier Services on Coventry 02476 466000 or email info@defendacouriers.co.uk
Vans & motorcycle couriers for speedy GPS Tracked deliveries with electronic proof of delivery (PoD) emailed directly to our customers upon delivery.
Please note that our Coventry Motorbike Couriers operate from our Coventry base only and are therefore most suitable for customers either in Coventry, Birmingham, Leamington, Warwick, Rugby, Nuneaton, Solihull or other West Midlands towns.